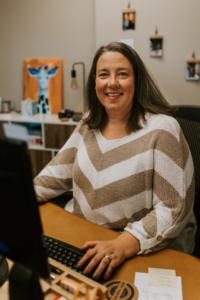 Quantum Services has a close-knit company culture for all its employees across the country. We believe the workplace is a community where people bond around common values, feel respected, and have a voice in decisions that affect them. We asked Rachell Bernhardt what it is like to be a part of the Quantum Services Community: 
What is your current title and how long have you been with the company? We're not big on titles here at QS, but if I were to describe my current position it would be Director of HR and I've been with Quantum Services for 23 years. 
What aspects of your job do you enjoy the most? 
I enjoy coaching others and helping them see things in a new light. I work with many people at QS in the field and at the staff level. I really enjoy talking with them one on one and learning what they are about while asking a lot of questions to help them grow. 
What do you believe are the best benefits of working for Quantum Services?  
We believe in hiring good people and getting out of the way.  So, with that, the benefits are:  
Autonomy to do your work without someone looking over your shoulder

 

We have great processes in place to facilitate trust but also verify performance

 

Our values lead our people to do the right thing 

 

We have a support system at the local level and here at our office to help when there are questions

 

The teams that we have. We operate in 38 States and 85 cities across the country. We have found a way to stay connected over the years, even

before

the pandemic. Technology makes it easier than before but when you work here, you have support from coast to coast.

 
How has the company changed from when you started?  
A lot has changed in 23 years with the company and with me. We've both grown and adapted. We're working differently and with different leadership than when I started. We're currently focused on a systems thinking mindset that will lead us to great things in the future.   
 Describe how employees can grow within the company. 
We don't have a typical career path at Quantum Services. Most people start out as an Auditor and move into the Audit Supervisor role. From there you can grow by adding value to our clients in your day-to-day work and by engaging in the projects we're working on. It's not about climbing the ladder here; it's about showcasing your talents and being engaged. 
What are some key characteristics of being successful within Quantum Services?  
Individuals interested in growing and improving themselves

 

Folks who ask good questions and try their best

 

Curiosity is something that will help anyone be successful at Quantum Services. Curious to learn how we work, curious how we can improve, and curious to learn new things
What are some ways you have grown personally and professionally since starting with Quantum Services?  
I've essentially grown up in Quantum Services. It's the only place I've worked since I graduated from college. I've grown a lot and have really been able to expand my role and responsibilities during the pandemic. My husband started working from home and can do more with the kids, so I was able to focus more on my work. I have expanded my leadership responsibilities a lot in the last 2 years. I am glad to be a woman at the leadership table as our company moves into our 2nd generation of business and leadership. 
What do you see for QS in the upcoming year? 
Growth and learning

 

Empowering our people to work in their part of the business through a focus on systems and processes

 

Helping 250+ people grow into a role that works for them and QS

 
What do you feel makes Quantum different from other inventory audit service providers? 
We specialize in the C-Store industry, and we have the best people in the business counting the stores. 
If you are interested in starting a career with Quantum Services, you can learn more about our ideal candidate, our company culture, and our current open positions by visiting these links and our career website portal.